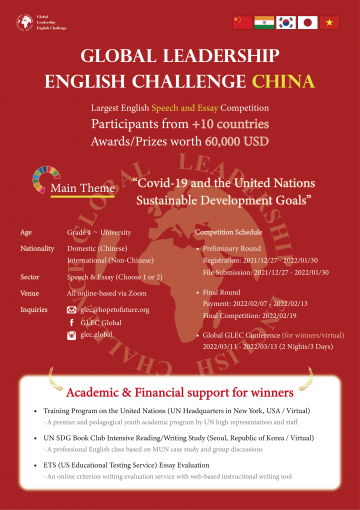 The Hope to the Future Association (HFA), a Civil Society Organization representative at the United Nations Department of Global Communications, is inviting students to join the Global Leadership English Challenge. HFA is a non-profit organization under the jurisdiction of the Ministry of Foreign Affairs of the Republic of Korea that has achieved the status of associated Civil Society Organization with the United Nations Department of Global Communications.
The Global Youth English Contest (GLEC) is an English speech/essay competition for youth from all around the world on the topic of the United Nations and international concerns. Starting in 2012, we've been encouraging youth participation by naming competition as the yearly UN agenda item and desirable aims for everyone on the planet. The Global GLEC Conference follows the Regional Preliminary Round and Regional Final Round, all of which are held online at https://www.glecchina.com/.
The United Nations Academic Impact, a program that integrates institutions of higher education with the United Nations in supporting and contributing to the accomplishment of United Nations goals and mandates, is a strong supporter of GLEC. Participants are required to study global issues, identify faults with the status quo, and propose a remedy from their viewpoints as part of the competition. The young can acquire critical thinking skills and formulate concrete suggestions on how to address global concerns.
The competition invites students from 4th grade to university students from all nations where the winners will have the opportunity to learn from UN high officials, scholars, and ambassadors, expecting to create a synergy between the professionals and the youth. The competition is also completely online-based via Zoom.
Students from UGM are invited to join and are encouraged to sign up for nominations through OIA's standard nomination form.
Student Nominees will:
    Be waived a participation fee ($30) for the preliminary round.
    Automatically qualify for the final round once they submit their files.
Eligibility:
University-level students
Deadline:
January 30, 2022 – Registration deadline (for filling the UGM International Exposure Application)
APPLICATION PROCEDURE
Submit the mentioned documents to UGM International Exposure Application for application fee waived  Form:http://ugm.id/IntExposureApplication no later than January 30, 2022.