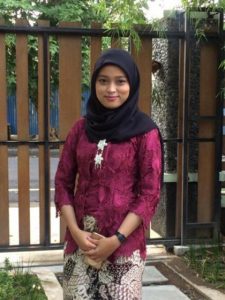 English
As an office that deals with foreign affairs, OIA UGM needs to establish and maintain partnerships with institutions from various nations. Ever wonder how it's like behind the scenes? Today we'll meet Sepitri Indrayanti, familiarly called Mbak Pipit, as Program Coordinator for Asia Region at OIA UGM.
As a program coordinator, her main task is to manage the international collaborations and to deal with MoUs and Agreements between UGM and other institutions in Asia (excluding ASEAN). Aside from that, Pipit also needs to maintain and update partnerships (in the Asia region) that OIA has made.
"(Partnership) mostly comes from East Asia, such as Japan, Korea, or China. Lately, there were also partnerships from India, Bangladesh, even Kazakhstan, but still dominated by East Asia," Pipit explained. "In OIA's networking, ASEAN being separated from Asia for ASEAN's load of partnership is very high, so we need specific PIC for ASEAN area," Pipit explained.
At first, she was not expecting to be a Program Coordinator, since it is a great responsibility to build linkage of education cooperation between UGM and partner universities. When asked about interesting things as a Program Coordinator, Pipit answered that Program Coordinator has some habitual workflows, making it easier to make crucial decisions.
Being a Program Coordinator also brings positive impacts for Pipit. Since Pipit frequently deals with officers from various institutions overseas, she understands much about work culture and way of communicating in each of Asian countries. Through that, Pipit learns a lot about "dos and don'ts" in communicating with international partners.
Aside from it, making deals surely involves integrating vision and mission between two parties. In OIA, it is quite a challenging experience, for every institution has its own expectations and needs. "Depending on the situation, we indeed need to be smart in conveying what UGM needs, so that we could also meet our partner's request and yet still give benefit to our university itself. To reach that goal, surely we need to negotiate or give options." Pipit answered.
The work of networking could be unexpected at times, for the Networking Division has no exact schedule and timeline in communicating with international partners. "When they initiate a partnership or other cooperation matters, we will try to respond immediately. We can't see when (the partnership) will go up, and when it will go down, as most of the time it depends on the expiry time of an agreement, which is quite irregular" Pipit explained on how the work-dynamic in Networking would be like.
All-in-all, Pipit feels that it is a nice experience to be a Program Coordinator. "We have a solid team here. Program Coordinators would mostly be independent (work-wise) due to our different regions. But at times when we have big events or if we are overwhelmed, we'd be helping each other out."
As a closing, Pipit reminds UGM students to use their chance for international exposure well. Don't miss any opportunity, whether it's an exchange, short program, and so on, for most of the international cooperation OIA made is to provide opportunities of international exposure for UGM active students.
Bahasa Indonesia

Sebagai kantor yang mengurus urusan internasional, OIA UGM tentu perlu menjalin dan menjaga kemitraan dengan institusi dari berbagai negara. Penasaran seperti apa caranya? Hari ini, dari balik layar, kita akan bertemu dengan Sepitri Indrayanti, akrab disapa sebagai Mbak Pipit, sebagai Program Coordinator for Asia di OIA UGM.
Pipit memulai perjalanannya di OIA sebagai Mobility Support Staff. Kini dengan posisinya sebagai Program Coordinator, tugas utama Pipit yakni menginisiasi kerja sama dan MoU antara UGM dengan institusi lain di Asia (kecuali ASEAN). Selain menginisiasi kerjasama, Pipit juga perlu menjaga dan memperbarui perjanjian kemitraan (di kawasan Asia) yang telah dimiliki OIA.
"(Kemitraan) kebanyakan berasal dari Asia Timur, seperti Jepang, Korea, atau Cina. Belakangan ini ada juga kemitraan dari India, Bangladesh, bahkan Kazakhstan, tapi masih didominasi Asia Timur," jelas Pipit. "Dalam Divisi Jejaring OIA, ASEAN dipisahkan dengan Asia karena beban kemitraan ASEAN cukup tinggi, sehingga perlu tambahan PIC untuk kawasan ASEAN," lanjutnya.
Awalnya ia tidak menyangka akan menjadi Program Coordinator, karena tanggung jawabnya yang besar untuk menjadi perantara antara pimpinan UGM dengan pimpinan universitas mitra. Ketika ditanya tentang hal-hal menarik sebagai Networking Coordinator, Pipit menjawab bahwa Program Coordinator memiliki rancangan kerja yang tetap, sehingga Pipit dapat mengambil keputusan sendiri atas beberapa kepentingan nan krusial.
Menjadi Program Coordinator juga membawa dampak positif bagi Pipit. Karena Pipit sering berurusan dengan berbagai institusi di luar negeri, Pipit banyak memahami budaya kerja dan cara berkomunikasi di masing-masing negara, khususnya di Asia. Melalui hal tersebut, Pipit belajar banyak tentang "dos and don'ts" dalam berkomunikasi dengan mitra internasional.
Selain itu, dalam kerjasama tentu diperlukan integrasi visi dan misi antara dua pihak. Di OIA, ini adalah hal yang cukup menantang, karena setiap institusi mitra tentu memiliki permintaannya masing-masing yang perlu dipenuhi. "Tergantung keadaannya, kita harus pintar-pintar menyampaikan kebutuhan UGM apa saja, supaya kita juga bisa memenuhi permintaan dari mereka namun tetap memberi benefit bagi UGM. Untuk mencapai hal tersebut, tentu kita perlu bernegosiasi atau memberikan beberapa pilihan alternatif," jawab Pipit.
Pekerjaan Divisi Jejaring terkadang tidak terduga, karena Divisi Jejaring tidak memiliki jadwal dan waktu tertentu dalam berkomunikasi dengan mitra internasional. "Saat mereka menginisiasi kerjasama ya kita harus segera merespons. Kasarnya kita nggak bisa melihat kapan (pekerjaan) akan naik dan kapan akan turun," ujarnya.
Secara keseluruhan, Pipit merasa bahwa menjadi Program Coordinator adalah pengalaman yang menyenangkan. "Timnya di sini itu solid. PC (program coordinator) mostly akan independen sendiri karena kita sudah beda region dengan teman se-divisi. Tapi at times saat eventnya besar, atau memang lagi overwhelmed, akan sangat bisa untuk saling membantu. Jadi kita nggak jalan sendiri,"
Sebagai penutup, Pipit mengingatkan para mahasiswa untuk menggunakan kesempatan international exposure yang mereka miliki dengan sebaik-baiknya. Jangan lewatkan kesempatan apapun, baik itu exchange, short program, dan sebagainya, karena sebagian besar program dirancang tak lain dan tak bukan adalah untuk para mahasiswa sendiri.