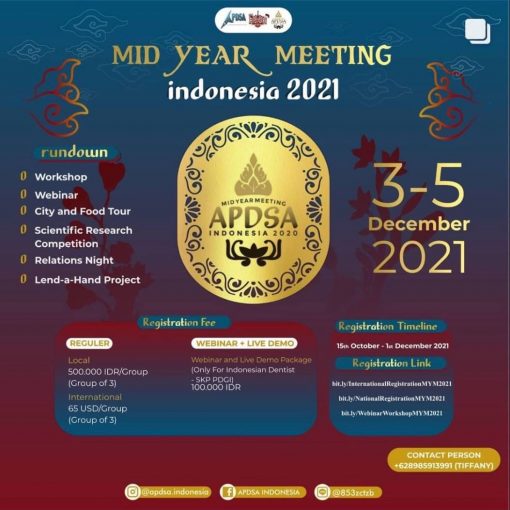 APDSA was established in 1968 in Japan, having members across 16 countries along with established partnerships with many student organizations in the region. APDSA has a vast vision, aiming to do various things from promoting dental health to assisting in organizing international conventions.
APSDA helps support the development of dental students in the region by providing knowledge and holding activities like annual congresses, mid-year meetings, and lend-a-hand projects. The APSDA community is varied and diverse as the APSDA community consists of dental schools ranging from 16 countries all over the Asia Pacific region.
This year with UNISULA, UGM has been entrusted with hosting the 2021 Asia Pacific Dental Student's Association (APDSA) Mid Year Meeting.
The event will take place on December 3-5, 2021, and will have multiple agendas:
Writers' workshop in Java
Competition for Scientific Research
Community project
Dental webinars
For details on registration click here.