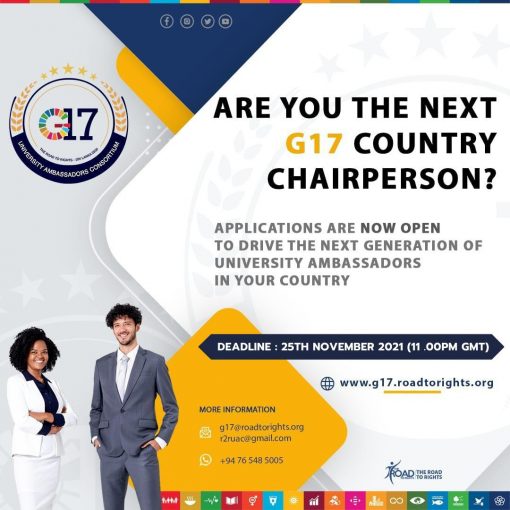 Greetings from G17 University Ambassadors Consortium!
G17 University Ambassadors Consortium is a global fellowship program that aims at moulding University undergraduates into resilient leaders through an experiential learning environment to make our communities and planet a better place through practices of the Sustainable Development Goals.
G17 offers leadership opportunities, the knowledge and skills required for the implementation of SDGs and creates spaces for individuals to expand their network while providing them with global exposure. By becoming a G17 University Ambassador, young people will be able to enhance their understanding on SDGs and develop their competencies as future young professionals through an experiential learning environment.
We strongly believe that universities play a major and critical role in helping the world achieve the SDGs through their research, teaching, operations and community leadership. The G17 provides a unique opportunity to demonstrate the willingness and capabilities of universities in playing an active and meaningful role to accelerate SDGs locally as well as globally. 
We are looking forward to appointing 17 University Ambassadors from Universitas Gadjah Mada. Interested candidates can also apply for the positions of Country Chairperson and University Coordinator.
Eligibility
Applicants should be an undergraduate.

Applicants should be passionate about SDGs, Human Rights, Climate Action, and about the objectives of G17 University Ambassadors Consortium.

Applicants must be able to devote sufficient time to this position, and having too many conflicting obligations may result in rejection.
Positions Available
IMPORTANT NOTES
Send your application no later than

November 25th, 2021

The FINAL decision of participants is from ASEAN in Today's World (AsTW) 2022. No nomination needed from OIA UGM