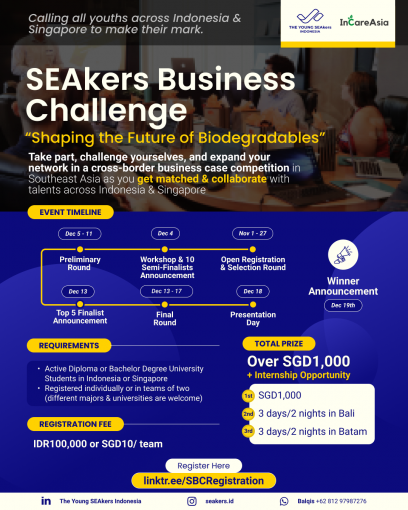 Greetings from the SEAkers Business Challenge!
The Young SEAkers Indonesia is a non-profit organization that brings together vibrant, competent youths from the ASEAN region who are passionate about advancing the ASEAN-China region. This year, Young SEAkers will hold a competition called SEAkers Business Challenge. It's an ASEAN-scale business case competition with the theme "Shaping the Future of Biodegradables" with participants from Singapore and Indonesia. We are collaborating with InCareAsia, the next generation social enterprise Singapore focused on restoring the environment and preserving the culture of Singapore. 
We are pleased to inform you that the application for SEAkers Business Challenge is now open for Universitas Gadjah Mada students.
General Information
SEAkers Business Challenge consists of three stages of competition. It begins with the Selection Round where participants must solve the Initial Case Challenge after completing the registration process. Participants who passed the Selection Round will be matched into ten (10) groups of four (4) that consist of Indonesian and Singaporean members and continue to the Preliminary Round. Participants will solve the main case given in groups and submit their solution in forms of proposal. There will be five (5) best selected groups that will qualify to the Final Round to solve the final case given and present their solution in front of the judges via online meeting. Thus, this is your chance to work and collaborate in solving real-world business challenges with participants from different countries.  
Guidebook Business Case TYS Indonesia
Eligibility
Indonesia or Singapore Citizen

Active Diploma or Bachelor Degree University Students (different majors & universities are welcome)
Prize
Total prize SGD 1,000+ 1st Winner : SGD 1,000 / Rp10,000,000* 
2nd Winner : 3 days/2 nights in Bali 
3rd Winner : 3 days/2 nights in Batam
IMPORTANT NOTES:
Register via

 

this link

no later than November 27th, 2021.
The FINAL decision of participants is from The Young SEAkers. No nomination needed from OIA UGM.