Meet Head of Mobility Division at OIA: Agus Supriyanto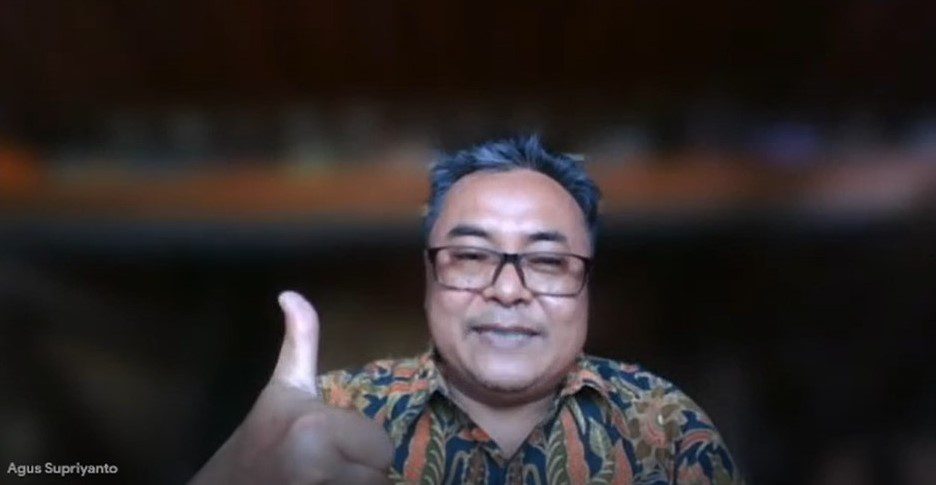 English Version
As students, we often recognize the Office of International Affairs (OIA) as one supporting organization in UGM that often shares great programs and opportunities to upscale our international exposure. But have you ever wondered what might happen behind the scene? We proudly present to you: #BehindOIA.
OIA UGM has two divisions, named Mobility Division and Program Development and Networking Division. The Mobility Division is in charge of helping scholars that are coming to UGM and vice versa. This time, We'll meet Pak Agus Supriyanto: the Head of Mobility Division at OIA. 
"If we look from the beginning, yes, I've been working for KUI (Kantor Urusan Internasional, red) since 1994. In the past, it was still called Kantor Urusan Kerjasama. It was firstly named KUI in 2004 or 2005 if I'm not mistaken," said Pak Agus, sharing stories about OIA's early times. "Starting from 2015 until now, I have been the Head of Mobility Services. Based on the current contract, I'll be taking this role up until 2023."
As the Head of Mobility, Pak Agus is assisting the Head of OIA in tasks related to international mobility. Based on it, Pak Agus needs to update information and make clear Standard Operational Procedures regarding incoming and outgoing matters in UGM. Managing immigration services (such as incoming visas) is also one of Mobility Division job descriptions, which is not an easy task. The bureaucracy is complex and many stakeholders are included. Pak Agus himself needs approximately four years to master the art and flow in making visas for international scholars who'll study in UGM.
"Our international scholars don't need to know that we're up and down every day managing their visas. All they need to know is that their visas are ready, they come (to UGM), attend the program, feel satisfied, and they can go home with pride that they once already been a part of UGM," said Pak Agus.
The Mobility Division is also in charge of monitoring and evaluating services by OIA. The unique thing is, Pak Agus is also responsible for other matters such as the maintenance and revitalization of OIA Office Building, which is located at Bulaksumur F-13, inside the UGM area. His task also includes budgeting for equipment needed by the office, such as upgrading computers, printers, and so on.
"Ever heard of the abbreviation of KUI? When I was attending the national KUI Forum, I used to say 'KUI is Kantor Urusan Internasional, but KUI could also mean Kantor Urusan Ini-Itu''," said Pak Agus, sharing the joke.
The aspect of human resources, especially related to staff development, is also important. According to Pak Agus, kinship and balance between emotional relationships and professionalism are two main things that are needed in a work environment. Of course, there are ripples of problems, and if that happens, good problem solving is needed to overcome them.
Regarding the dynamics of work, Pak Agus positioned himself more as a coordinator and support system, as well as a communicator to the Head of OIA. "Of course, I was not able to handle it all without the help from you guys. I prefer to consider myself a supporter of this office. It's more about delivering the task to my co-workers. And I give freedom for you guys to be creative, " said Pak Agus
"Does it take time? Yes. Energy-draining? Also yes. Hahaha… Sometimes I think that this is a 24/7 occupation, but just enjoy it, for it's a consequence we should face," said Pak Agus. "Nothing is easy, every job has its own difficulties," he continued.
Of course, there are interesting things that Pak Agus finds while working at OIA. Those things include culture and how to build relationships with partners from various countries. This is interesting, considering that there must be differences in their mindset, work patterns, and the way they express their opinions. According to Pak Agus, this is very humane, and not everyone can get this experience.
Through OIA, Pak Agus always aspires to take advantage of international scholars to be impactful for UGM and Yogyakarta. This can be achieved through simple, yet high-quality programs that have good impacts on both sides involved.
"We once invited a group of students to visit an elementary school. Now that's something both for children we visit and also for international students who visit them. The international student came to know, 'oh, this is how basic education is running in Indonesia'. From elementary students, they'll think, 'oh, I've had guests from abroad. One day I want to go there too'," said Pak Agus, explaining a real example of the program.
At the closing, Pak Agus expressed his hope for OIA UGM. He hopes that OIA will still be one of UGM's leading university services. In addition, Pak Agus also aspires that UGM someday could have one-stop service to serve immigration services for international scholars. This one-stop service would rock if it included representatives from relevant parties, such as Kantor Imigrasi, Kantor Kabupaten, and Kepolisian. With this representative, of course, managing visas for incoming and outgoing UGM scholars would be simple and easy.
"So that we (OIA UGM, red) could be the pioneers to form such a system. This is indeed extraordinary, but the effort must be intense and needs much support. I think that's it about my future aspirations for OIA," he concluded.
Indonesian Version
Sebagai mahasiswa UGM, kita biasa mengenal OIA sebaga salah satu layanan UGM yang sering membagikan informasi mengenai pertukaran pelajar atau hal-hal lain yang dapat meningkatkan international exposure kita. Namun, pernahkah kamu berpikir apa yang ada di balik OIA? Kami persembahkan: Segmen #BehindOIA.
OIA UGM memiliki dua divisi, yakni Divisi Mobilitas dan Divisi Jejaring dan Pengembangan Program. Seperti namanya, Divisi Mobilitas bertanggung jawab untuk membantu sivitas akademika yang masuk ke UGM maupun sebaliknya, baik sebagai mahasiswa, dosen tamu, hingga peneliti. Kali ini, kita akan berkenalan dengan Pak Agus Supriyanto, sebagai Kasi Pengelolaan Mobilitas di OIA. 
"Kalau cerita dari awal, saya masuk ke kantor, yang sekarang namanya KUI, itu dari tahun 1994. Dulu namanya sih masih Kantor Bagian Kerjasama. Kemudian ada KUI itu kalau tidak salah tahun 2004-2005," kata Pak Agus, bercerita mengenai masa-masa awal perkembangan OIA. "Nah, mulai tahun 2015 sampai sekarang, saya jadi Kasi (Kepala Seksi, red) Pengelolaan Mobilitas. Kontraknya per lima tahun, untuk kontrak periode yang sekarang ini berlaku sampai dengan tahun 2023." lanjutnya.
Sebagai Kepala Seksi Pengelolaan Mobilitas, Pak Agus bertugas untuk membantu Kepala Kantor OIA pada tugas-tugas yang berkaitan dengan international mobility. Berdasarkan hal tersebut, Pak Agus perlu memperbaharui informasi dan membuat Standar Operasional Prosedur (SOP) yang jelas, terkait dengan urusan incoming dan outgoing mobility. Mengelola layanan keimigrasian (seperti visa masuk ke Indonesia) juga merupakan tanggung jawab Divisi Mobilitas, yang cukup menantang. Birokrasinya kompleks dan melibatkan banyak pemangku kepentingan. Pak Agus sendiri butuh kurang lebih empat tahun untuk menguasai alur dan tatacara pembuatan visa bagi mahasiswa/dosen tamu dan peneliti yang akan belajar di UGM.
"International scholar itu nggak perlu tahu kita jungkir balik dan akrobat tiap hari, nggak perlu tahu mereka. Tahunya visanya beres, mereka datang, programnya bagus, kemudian setelah selesai, mereka pulang dengan satu added-value atau kebanggan bahwa ia pernah menjadi bagian dari keluarga besar UGM,"
Divisi Mobilias juga bertanggung jawab atas monitoring dan evaluasi pelayanan internasional oleh OIA. Uniknya, Pak Agus juga mengurus hal-hal lain, seperti penganggaran pemeliharaan dan revitalisasi bangunan Kantor OIA yang terletak di Bulaksumur F-13, di dalam komplek UGM. Pak Agus juga bertanggung jawab atas penganggaran peralatan yang dibutuhkan OIA, misalnya upgrade komputer, printer, maupun hal-hal lain yang sekiranya diperlukan oleh teman-teman di kantor.
"Pernah dengar singkatan KUI? Dulu saat di salah satu Forum pertemuan KUI nasional, saya sempat bilang  'KUI kan Kantor Urusan Internasional, tapi faktanya nggak hanya itu, karena KUI bisa jadi kantor urusan ini-itu'," kata Pak Agus sembari membagikan guyon yang relatable bagi pengurus KUI. 
Aspek ke-SDM-an, khususnya terkait pembinaan staf juga merupakan hal yang tidak kalah penting. Menurut Pak Agus, kekeluargaan dan keseimbangan antara hubungan emosional dan profesionalisme merupakan dua hal utama yang perlu dibangun dalam lingkungan pekerjaan. Riak-riak permasalahan tentu ada, dan apabila hal tersebut terjadi, diperlukan problem solving yang baik untuk mengatasi hal tersebut. 
Terkait dinamika pekerjaan, Pak Agus lebih senang memposisikan diri sebagai koordinator dan supporting system, serta sebagai komunikator apabila terdapat hal yang perlu dikomunikasikan ke pimpinan OIA. "Terus terang saya sendiri juga nggak mampu menangani itu semua tanpa bantuan teman-teman. Saya sih lebih memposisikan bahwa saya adalah supporting buat kantor ini. Lebih ke delivering the task, apa sih yang harus dilakukan oleh teman-teman. Dan saya berikan kebebasan bagi teman-teman untuk berkreasi,"
"Makan waktu? Iya. Menguras energi? Iya juga. Hahaha.. Kadang saya berpikir bahwa ini pekerjaan 24/7 ya, tapi ya dinikmati saja, sudah menjadi konsekuensi," kata Pak Agus. "Kerjaan itu nggak ada yang mudah kok, semuanya ya seperti itu, cuma bentuknya saja yang bermacam-macam," lanjutnya.
Tentu terdapat hal-hal menarik yang Pak Agus temui selama bekerja di OIA, khususnya terkait kultur serta cara menjalin hubungan dengan berbagai pihak lintas negara. Hal ini menarik, mengingat tentunya terdapat perbedaan pola pikir, pola kerja, hingga cara mereka mengutarakan pendapat. Menurut Pak Agus, hal ini sangat humanis, dan tidak semua orang bisa berkesempatan untuk merasakan hal tersebut. 
Melalui OIA, Pak Agus juga bercita-cita untuk memanfaatkan kedatangan international scholars agar berdampak positif, baik bagi UGM maupun masyarakat Yogyakarta. Hal ini dapat dicapai melalui program-program sederhana, namun berkualitas dan memiliki dampak yang baik bagi kedua pihak yang terlibat.
"Pernah juga kita ajak satu rombongan mahasiswa untuk berkunjung ke satu sekolah dasar. Nah itu bagi saya sesuatu banget, ya, baik itu untuk anak-anak SD yang kita kunjungi, juga bagi mahasiswa internasional yang berkunjung ke SD itu. Dia jadi tahu, 'oh, ini to perspektif pendidikan dasar di Indonesia'. Dari sisi kita, 'oh, aku pernah kedatangan tamu dari luar negeri. Suatu saat ingin deh, punya cita-cita untuk ke sana'," papar Pak Agus, menjelaskan contoh nyata dari program tersebut.
Sebagai penutup, Pak Agus lantas melayangkan harapannya bagi OIA UGM. Harapannya, OIA tetap menjadi garda terdepan bagi pelayanan universitas. Dari sana, OIA bisa menyambut klien maupun mitranya dengan pelayanan yang lebih baik. Selain itu, Pak Agus juga bercita-cita agar UGM memiliki one stop service untuk melayani perizinan internasional. One stop service ini diharapkan juga mencakup perwakilan dari pihak-pihak yang terlibat, seperti Kantor Imigrasi, Kantor Kabupaten, maupun Kepolisian. Dengan adanya pihak-pihak tersebut, tentu pelayanan perizinan internasional akan menjadi hal yang simpel nan mudah.
"Sehingga, kita bisa menjadi pionir untuk membentuk sistem yang seperti itu. Memang ini luar biasa, effort-nya harus intens dan harus ada dukungan dari pimpinan. Karena kalau tidak begitu juga tidak bisa jalan. Saya kira itu, ya, kalau terkait cita-cita ke depan," pungkas Pak Agus.