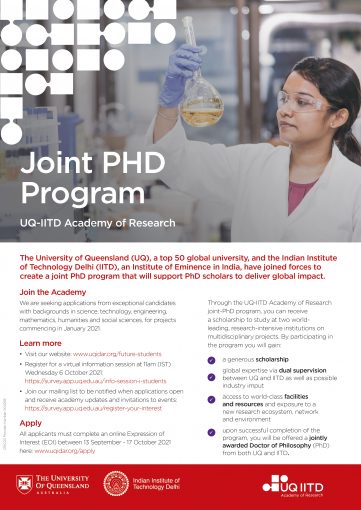 Greetings from The University of Queensland and IIT Delhi!
The University of Queensland (UQ) and the Indian Institute of Technology Delhi (IITD) established UQIDAR in 2018 to attract the best global talent including elite students, academics, researchers and scientists to work on goal-directed, cross-disciplinary grand challenges that are of interest to Australia, India and the global community.
UQIDAR joint-PhD Program currently accepting applications for exceptional students to enrol in a PhD that is jointly supervised by academics at The University of Queensland and IIT Delhi, with time spent in both Australia and India. Through participating in the program students will gain a generous scholarship, a travel grant and overseas student health cover for 12 months while abroad, access to world-class facilities and resources and gain exposure to a new research ecosystem, network and environment. Upon successful completion of the program, students will receive a jointly awarded Doctor of Philosophy (PhD) from both UQ and IITD.
UQIDAR will enable students to enroll as either i-students or as q-students. For international applicants (with citizenship other than Australia), will be considered for admission as i-students. i-students will spend their first year of study at IITD before completing one year (or more) at UQ. They would then complete the remainder of their studies at IITD.
Application Procedure
Find a project suitable for your academic and research interests via http://uqidar.org/our-projects/ 
Step 2: Check your Eligibility
Check your eligibility via https://uqidar.org/apply/apply-to-uqidar-i-students/
Step 3: Prepare your Documents
You must upload the following compulsory supporting documents when you submit your online application including your:
Step 4: Submit an Expression of Interest (EOI)
Once you have found a project, checked the eligibility requirements and prepared your supporting materials, you can submit your Expression of Interest (EOI) online.
Expressions of Interest are open from 13 September – 17 October, 2021.
Step 5: Attend Interview & Exam
Step 6: Accept your Offer
Full information on how to apply as an i-student can be found here 
Scholarship
Eligible i-students will be awarded a scholarship which includes:
Year 1 (at IITD): a monthly stipend of Rs 41,000*

Year 2 (at UQ): an annual stipend of A$28,597*

Years 3 and 4 (at IITD): a monthly stipend of Rs 45,000*

Relocation grant of A$5200* to support return travel between Delhi and Brisbane

Overseas Student Health Cover (single policy) for stay in Brisbane in Year 2
The UQ tuition fee is waived for i-students. However, they are required to pay the Student Services and Amenities Fee of A$313* for the year spent at UQ. I-students will be required to pay the IITD tuition fee for the duration of their study.
During their stay at either institution, students will also be eligible for all other benefits offered to full-time PhD students at that institution. While at IITD, students will receive an additional amount as House Rent Allowance if they do not stay in campus accommodation (hostel), as per IIT Delhi's existing policy for PhD students. 
Further Information 
An overview of projects commencing in January 2022 can be found on our website when applications open on Monday 13 September: https://uqidar.org/our-projects/ Applications can be made online until Sunday, 17 October, 2021.
IMPORTANT NOTES
The implementation/execution of this program will be carefully reconsidered depends on the latest development of COVID-19 and the government's regulation
The final decision of acceptance is from The University of Queensland

and

IIT Delhi. Nomination from OIA is not needed