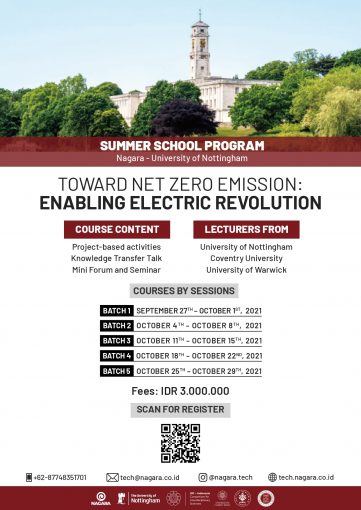 Greetings from Nagara and University of Nottingham!
Nagara cooperates with the University of Nottingham and UK Indonesia Consortium Interdisciplinary Sciences (UKICIS) to conduct a Summer School Program, an academic experience for final year students in Indonesia. This program provides students with insights into the UK's EV revolution, characterizes the associated necessary skills, and builds a strong leadership foundation to excel in the industries combining high-level expertise from UK universities.
UK – Indonesia Summer School Program will deliver highly interdisciplinary modules on understanding technological advances and challenges pertaining to the electric vehicle revolution as means to reach the UN net-zero emission target. This program is for those who wish to pursue future careers in EV ecosystem and its rich supply chain.
For further information, kindly check here.
General Information
Theme: "Toward Net Zero Emission: Enabling Electric Revolution!" 
Duration: 5 days
Time Commitment: 7 hours/day
Course Language: English
Fee: IDR 3.000.000
Delivery: Online Platform (Zoom Meeting)
Activities: Team Activities, Talks, Mini Forum, and Seminar
Why Joining This Program
Our facilitators are expertise lecturers from UK Universities.

Expand the network with other UK students, academics and international communities.

Awards will be presented to Best team/Best Poster/Highly commendable etc.

Certificate of participation will be issued upon completion of program.

The programme is tailored to be translatable into Indonesian "Satuan Kredit Semester" (SKS) system (1 SKS) (Institution partner only: Universitas Gadjah Mada, Institut Teknologi Bandung, Institut Pertanian Bogor, Universitas Diponegoro)
Course Content
Project-based activities:
Students will be tasked to make a report on how Indonesia could expedite the adoption of electric vehicles to undergird the national net zero emission target
Knowledge Transfer Talk:
Students will attend lectures by world leading scientists from Universities in the UK
Mini Forum and Seminar:
Students will attend career progression seminars, and leadership; Students will be tasked to present their works at the audience of UK students and receive valuable feedbacks
Courses by Sessions
Batch 1: Sept 27th – Oct 1st , 2021
(application until Sept 19th, 2021)
Batch 2: Oct 4th – 8th , 2021
(all slots taken by Universitas Diponegoro)
Batch 3: Oct 11th – 15th , 2021
(application until Oct 3rd, 2021)
Batch 4: Oct 18th – 22nd , 2021
(application until Oct 10th, 2021)
Batch 5: Oct 25th – 29th , 2021
(application until Oct 17th, 2021)
IMPORTANT NOTES
Apply directly via

https://tech.nagara.co.id/apply

. No nomination needed from OIA UGM.

The FINAL decision of participants is from Nagara – University of Nottingham