EURAXESS ASEAN links researchers in ASEAN with Europe. Free information and events on research funding, research careers and collaboration opportunities. EURAXESS ASEAN has been serving researchers in all fields interested in a research career in Europe since 2007.
EU Research & Innovation ASEAN
EU Research & Innovation Days ASEAN is the annual flagship event of EURAXESS ASEAN and its partners.
It is designed as a platform for early-career researchers, innovators, practitioners, and activists from across the ASEAN region to explore opportunities for collaboration and career development with European partners. Over 10.000 researchers joined over 30 practical workshops, hands-on training sessions and expert panel discussions.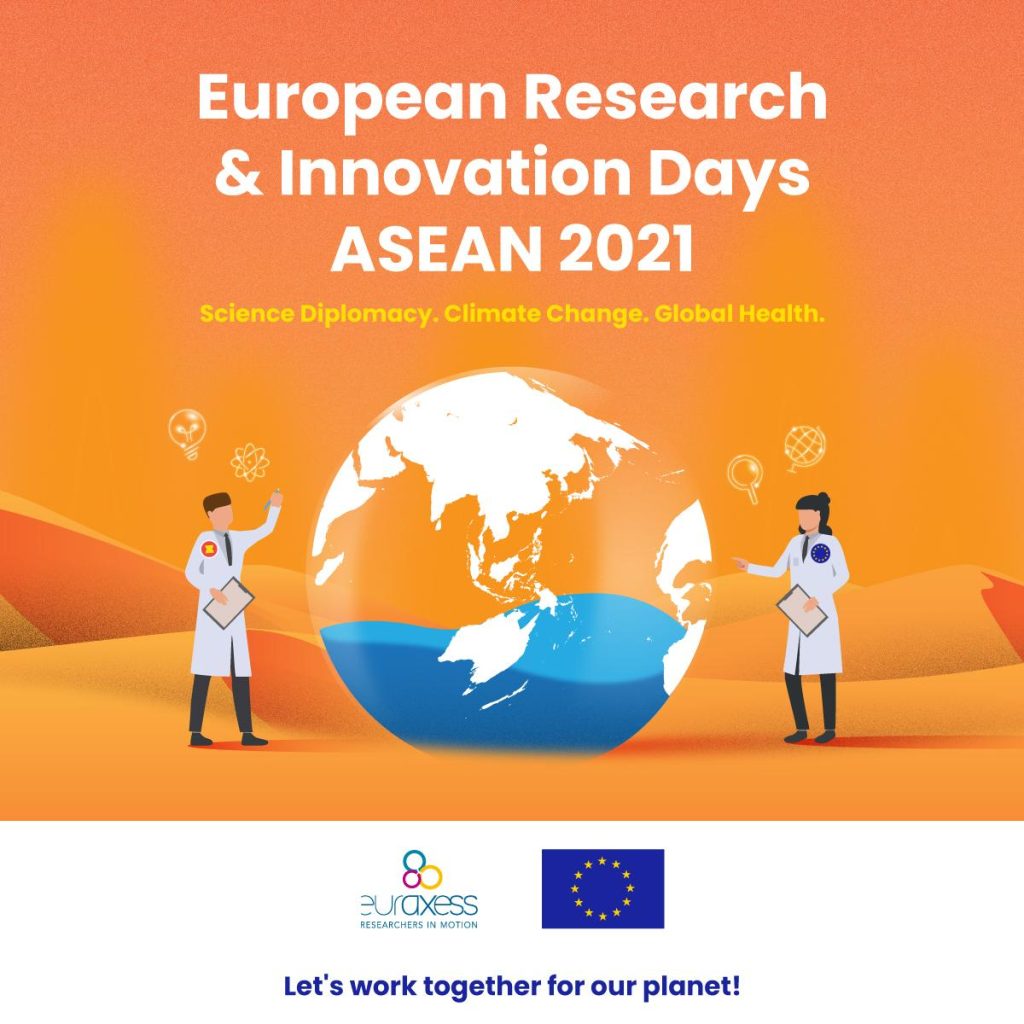 EU – EURAXESS ASEAN Collaboration Opportunities
ASEAN-EU Cooperation in Science & Technology
Scientific cooperation with SE Asia became a higher priority on the political agenda since 2007 on the occasion of the 16th ASEAN-EU Ministerial Meeting in Nuremberg, Germany. The reasons for this were the mutual interest expressed by officials to strengthen further our co-operation and the reciprocal will to share experience on S&T issues of common concern such as health, food safety and energy supply. This was also based on an expansive participation of ASEAN entities in the consecutive Framework Programmes. Following from the Nuremberg meeting, a plan of action (PoA) was drawn up to serve as the master plan for enhancing ASEAN-EU relations and cooperation in the medium term (2007-2012). Actions for cooperation in S&T were laid down under the pillar of "socio-cultural" cooperation. Afterwards, the ASEAN-EU Informal Ministerial Meeting on S&T was held in Manila in July 2008 where it was agreed to launch a dialogue on S&T at the senior official level between the ASEAN Committee of Science and Technology (COST) and the EU.
Projects
The project focused its efforts in the following areas:
Stakeholder dialogue.
ASEAN EU-Year of Science Technology and Innovation 2012 (YoSTI2012).
Creating scientific contacts.
Establishment of FP7 contact points.
Analysis and information gathering.
Stay tuned for the 2022 edition!
For more details please visit here.