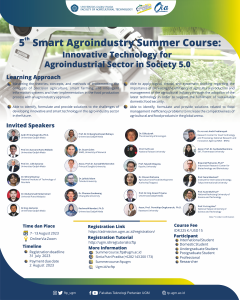 Calling for Participants!
Integration of agricultural technology (on-farm, postharvest handling, food diversification,
food handling, system engineering, as well as in the management and information system
processes) should be made to minimize costs, increase productivity, and labor efficiency in
the agricultural sector for sustainable food security. In this summer course, those topics will
be revealed and discussed further in the 5th Summer Course organized by the Faculty of
Agricultural Technology. We believe that it is essential to nurture the young generation to
conserve and fully utilize technology integration for sustainable agriculture.
Registration Period:
27 th June 2023 – 31 st July 2023
Starting Date:
7 th August 2023
Contact Person:
Sintia Putri Pradita
summercourse.ftp@ugm.ac.id
Whatsapp: +62-82-143-200-173
For more information, please refer to the link below:
https://ugm.id/scftp