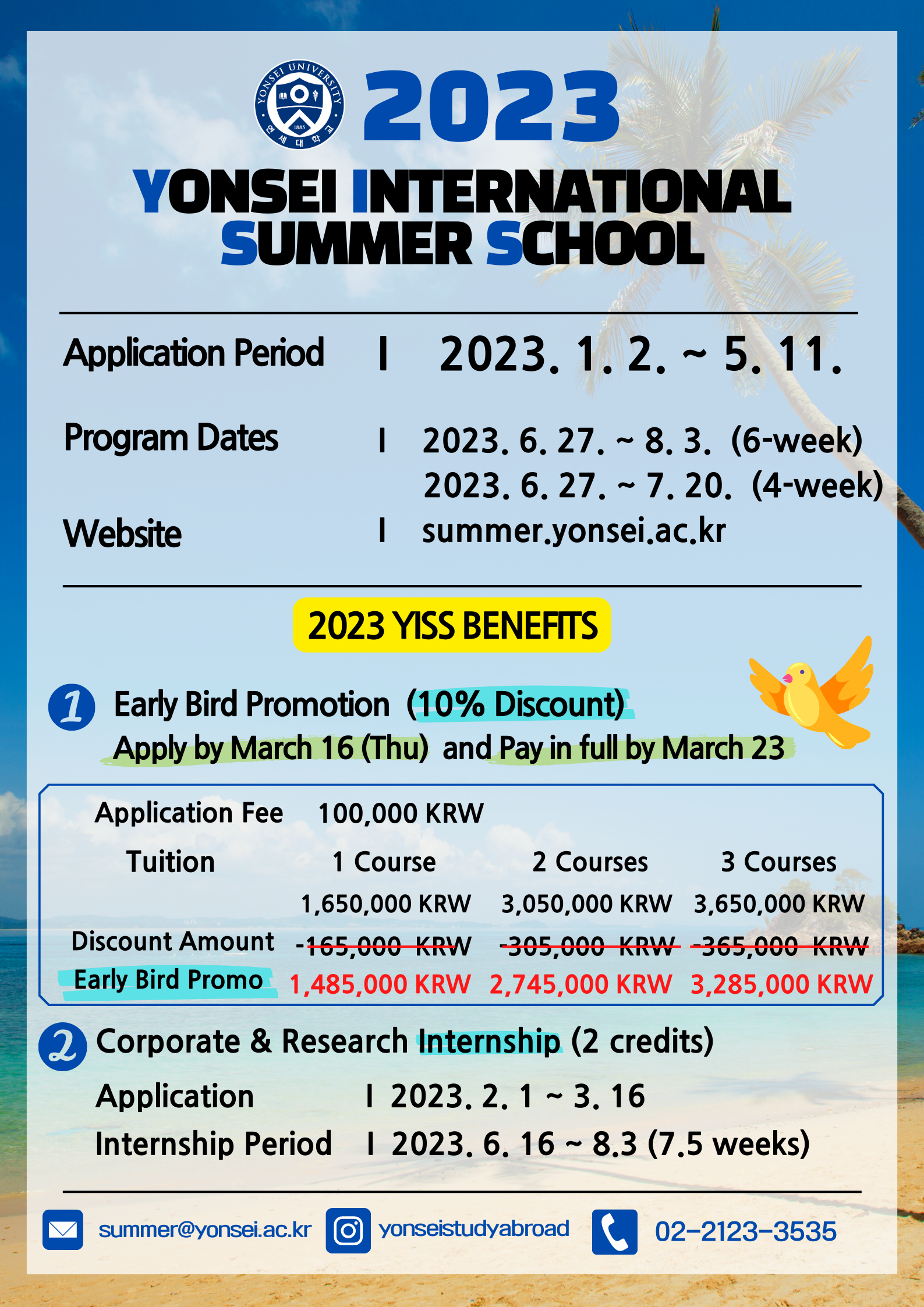 Greetings from Yonsei University!
The Yonsei International Summer School (YISS) opened its doors in 1985, and since then, YISS has become an integral part of campus life based on a unique blend of Korean and global cultures. YISS continues to grow and evolve, accommodating the needs of a rapidly changing student body and meeting the challenges of a fast-paced global society.
We are glad to inform you that Yonsei International Summer School (YISS) 2023 Application is now open for Universitas Gadjah Mada students.
About YISS
1. YISS offers over 100 classes in 7 different fields, including 4 online courses.
2. New Feature for 2023 YISS YISS now offers 4 online courses!
AI & Design 

Introduction to Python Programming

Introduction to Computer Graphics 

The UN, International Civil Society and North Korean Human Rights
*Course syllabus can be found on the website below
(https://summer.yonsei.ac.kr/home/program/course_main.asp)
*Students do not need to physically attend the classes for those above online-only courses, which will allow a lot more freedom and flexibility.
3. Yonsei Summer Internship Program (YSIP)
YISS offers various internship positions exclusively for YISS students. Internship participants will be able to experience either corporate internships with companies in Korea or research internships with faculties at Yonsei University. Students will earn 2 academic credits while working as an intern at YSIP.
Internship Application Period: February 1, 2023 ~ March 16, 2023
Eligibility: YISS students who are registered for at least two courses.
*Internship program is graded on Pass/Non-Pass basis
*Students cannot withdraw from the internship program once they get placed
(https://summer.yonsei.ac.kr/home/program/internship02.asp)  
4. Extracurricular Activities
YISS offers a variety of extracurricular activities, such as one-day trip or field trip. The schedule may be subject to be changed under the covid-19 situation.
These are activities that we have arranged at this moment.
DMZ (Demilitarized Zone) Tour

Seoul City Tour (Gyeongbokgung Palace+Blue House)

K-pop dance class with One-Million Dance Studio

Cooking class

Taekwondo class

Samyang Factory & Farm

Tour (Buldak Ramen factory+BTS music video location)

Korean Classical Music performance at Seoul Donhwamun Traditional
Theater+Deoksugung Palace night tour)

Lotte World
Eligibility
YISS is open to ALL STUDENTS currently enrolled in an accredited college or university. An official transcript with GPA over 2.0/4.0 is required. For freshmen, whose transcripts are not issued yet, can submit a Certificate of Enrollment, instead.
High school seniors who have been accepted to accredited colleges or universities can apply. Required document: Letter of Admission from an accredited college or university
Application Procedures
Create an ID and Complete Online Application on YISS website (summer.yonsei.ac.kr)
Upload required documents on the application
Pay the Application Fee
Wait for Admission Review to be done
Receive Acceptance Letter via email
Complete Enrollment by paying the Tuition Fee and Other Fees
(Optional) Apply for On-Campus Housing (Application: Early-April)
Upload Insurance Document on Application System
Get Ready for your Summer Journey!
Important Dates
1. Program Period 
6-week: June 27 ~ August 3, 2023

4-week: June 27 ~ July 21, 2023
2. Application Period: January 2 ~ May 11, 2023
3. Payment Deadline: May 25, 2023
4. Early Bird Promotion Deadline:  
Application Due- March 16, 2023

Payment Due- March 30, 2023
Important Notes
The FINAL decision of participants is from Yonsei University. No nomination is needed from OIA UGM. But if you need a nomination letter from Universitas Gadjah Mada, please submit your aforementioned documents through http://ugm.id/IntExposureApplication

All students who apply for 2023 YISS by March 16 and make a full payment by March 30 are eligible for the Early Bird Promotion. They will get a 10% discount from their tuition fee. At the same time, only these students will be able to participate in the 1st Course Enrollment in mid-April.

 

The Early Bird Promotion will fulfill the deadline.