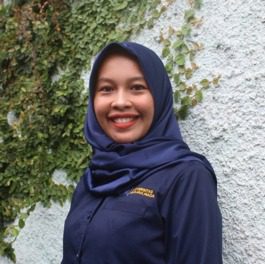 English

Hello, back again with OIA Behind the Scenes!
As we've learned from previous OIA behind-the-scenes sessions, OIA is an organization that helps UGM students who want to participate in types of international exposures. The truth is, OIA's role is far broader. Not only sending UGM students abroad, OIA is also in charge of incoming international students that want to study at Universitas Gadjah Mada.
This time, we'll meet Retno Wiyati (a.k.a Roro), Incoming Mobility Staff for Degree Program at OIA UGM. As one of the incoming staff, communicating to foreign students was a necessity she needed to do daily. Mbak Roro herself is in charge of foreign students who are applying in degree programs (S1, S2, or S3). Aside from communicating, Mbak Roro also checked and assisted them in their admission process, making sure they had their documents complete. After all was set, Mbak Roro would make the Letter of Offering for them.
"After they paid the tuition fee, I would then reach the Directorate of Education and Learning (Direktorat Pendidikan dan Pengajaran – DPP) UGM, and after that, the directorate will issue the Letter of Acceptance for them," said Mbak Roro.
Mbak Roro has always been the source of information for incoming students. This makes the communication between Mbak Roro and foreign students grow more likely. She even declared herself that she was more like their first mother here in Indonesia. So it would be natural for foreign students to tell Mbak Roro when something happens to them. That's why Mbak Roro is also in charge of consultation for the foreign students, which discuss pretty much everything.
"This consultation belongs to non-academic topics. Sometimes I feel like a psycholog, because they often tell me what they feel. So, now we also have a new program called peer counselor, that may be something they would need," stated Mbak Roro.
Still about the international students' best buddy, Mbak Roro also needs to mobilize when something bad happens, by this we mean accident. "Usually, degree students would call me if anything happens. It was like "Mbak, I had an accident." Then I would ask "Where are you?" Sometimes they're already in the hospital, helped by their friends. But there are also types of students who only trust a formal office if something bad happens, in this case OIA."
The challenge as an incoming staff also lingers in the admission process. In several other countries, to get a visa, forign students only need a Letter of Acceptance from the university.  In Indonesia, the game was upside down different. Aside from LoA, students need several other permits from Indonesian Ministry of Education and Culture before ugm apply them the visa to the Immigration Services. This needs to be handled in detail, to make sure there won't be any unwanted cases, such as overstay.
When asked about what's unique about working at OIA, Mbak Roro said that she is able to understand people more. Every nationality has their own culture.The difference between global citizen is inevitable. But indeed, the beauty of it lies when we  tolerate and still manage to collaborate with each other for greater good.
By rolling on OIA, Mbak Roro also noted that she understands more that small things sometimes matter most. For example, she asked 'How are you doing in this christmas season?' And the students would feel very thankful because there is someone who's willing to ask how they are. It was indeed a very profound note for all of us, that humanity stands in everyone's heart, all across the globe.
After 7 years being with OIA, Mbak Roro still could express the thrilling dynamics of her job. "It felt like a roller-coaster ride for me. The good part is I have lots of experience, have lots of  friends and relations too. When I go abroad, I can easily call them and have a meet-up. All-in-all, I have experience serving students and people, and that's what matters most." she concluded.
Bahasa Indonesia
Halo, kembali lagi di serial OIA Behind the Scenes!
Seperti yang sudah kita ketahui dari artikel-artikel sebelumnya, OIA seringkali diartikan sebagai lembaga yang membantu mahasiswa UGM untuk berpartisipasi pada program-program yang bersifat internasional, misalnya pertukaran pelajar. Kenyataannya, peran OIA lebih luas dari itu. Tidak hanya "mengirim" mahasiswa ke luar negeri, OIA juga bertanggung jawab untuk membantu mahasiswa asing yang berminat untuk melanjutkan studinya di Universitas Gadjah Mada.
Kali ini, kita akan bertemu dengan Retno Wiyanti, Incoming Mobility Staff untuk Mahasiswa Program Pascasarjana di OIA UGM. Sebagai incoming staff, berkomunikasi dengan mahasiswa asing sudah seperti makanan sehari-hari. Selain berkomunikasi dengan mahasiswa asing, Mbak Roro juga bertugas untuk mengecek dan membantu mahasiswa asing pada proses pendaftaran, memastikan lengkapnya seluruh dokumen yang diperlukan. Apabila semua dokumen sudah terpenuhi, Mbak Roro akan membuat Letter of Offering bagi calon mahasiswa tersebut.
"Setelah mereka membayar (tuition fee), kan memberitahu ke saya lagi, setelah itu kita daftarkan ke Direktorat Pendidikan dan Pengajaran (DPP) bahwa dia sudah bayar dan sebagainya, baru kita issue Letter of Acceptance," jelasnya.
Karena sedari awal semua informasi berasal dari Mbak Roro, hal ini membuat komunikasinya dengan para mahasiswa asing semakin intens. Mereka menganggap Mbak Roro sebagai "ibu" pertama mereka di Indonesia, sehingga Mbak Roro menjadi orang pertama yang mereka hubungi apabila terjadi sesuatu. Selain itu, Mbak Roro turut membuka sesi konsultasi bagi para mahasiswa asing, khususnya terkait  hal-hal non-akademik.
"Konsultasi ini berupa non-akademik ya. Kadang2 jadi kayak psikolog, karena mereka juga sering curhat. Jadi sekarang kita juga punya program baru namanya peer counselor, yang itu mungkin sangat diperlukan mereka, gitu,"
Sebagai "pendamping" mahasiswa asing, Mbak Roro juga perlu bepergian (mobilisasi) apabila terjadi hal yang tidak diinginkan ke para mahasiswa asing. "Dulu itu pernah, ya, subuh-subuh ada kecelakaan. Terus kalau anak-anak degree kan biasanya nelponnya aku. 'Mbak aku kecelakaan' gitu. Biasanya di awal aku tanyain posisi mereka di mana. Ada yang kadang udah ditolong temen-temennya, ada juga yang memang mempercayakan bantuan lembaga resmi kalau ada apa-apa, dalam hal ini OIA," terang Mbak Roro.
Sebagai incoming staff, tentu tantangan datang silih berganti, salah satunya pada proses admisi. Di beberapa negara lain, Letter of Acceptance dari perguruan tinggi juga berfungsi sebagai izin tinggal bagi mahasiswa asing. Di Indonesia, urusannya sama sekali berbeda. Selain LoA, mahasiswa memerlukan beberapa izin lain dari Kemendikbud dan dari Dinas Imigrasi untuk dapat belajar di Indonesia. Hal ini perlu ditangani secara detail, agar tidak terjadi hal-hal yang tidak diinginkan, seperti overstay.
Saat ditanya mengenai kesannya saat bekerja di OIA, Mbak Roro menjawab bahwa ia bisa lebih memahami manusia. Selain itu, ia pun mendapat contoh nyata bahwa setiap bangsa memiliki budayanya masing-masing. Perbedaan memang selalu ada, tetapi justru indah saat kita mampu bertoleransi dan berkolaborasi satu sama lain untuk kebaikan yang lebih besar.
Dengan berdinamika di OIA, Mbak Roro juga mengetahui bahwa hal-hal kecil nan sederhana terkadang berdampak besar. Misalnya, dia bertanya kepada mahasiswa asing: 'Bagaimana kabarmu di musim natal ini?' Biasanya, para mahasiswa asing akan merasa sangat senang karena ada yang menanyakan kabar mereka, terlebih mereka sedang jauh dari keluarga dan orang-orang terdekat mereka.
Setelah 7 tahun bersama OIA, Mbak Roro masih bisa mengungkapkan dinamika dari pekerjaannya. "Kayak naik roller coaster, ya, menurutku. Suka-nya punya pengalaman banyak, punya kenalan banyak. Jadi misal aku lagi ke Thailand, nih, aku bisa hubungi mereka. Ibaratnya punya kenalan dari berbagai dunia. Satu dapat koneksi, dua mungkin pengalaman untuk service ke mahasiswa dan orang di luar kita, dari segi budaya," pungkasnya.