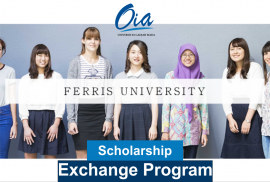 [Scholarship is offered for this program]
Greetings from Ferris University! We are ready to accept application for Spring 2019 exchange program. Ferris University are offering scholarship for 2 (two) students to join exchange program that will be held on Spring 2019!
Information sheet
: 
Ferris University Infromation Sheet for Exchange Program 2018-2019(Gadjah Mada University)
PERIOD OF STUDY
1 semester (April-August) or 2 semesters (April-February)
REQUIRED DOCUMENTS
1. Application form (Students:
Application Undergraduate 2019-2020
, Graduate:
Application Graduate 2019-2020
) 2. Certificate of Japanese Language Proficiency (
Certificate of Japanese Proficiency
) 3. Letter of Recommendation (
Letter of Recommendation
) 4. Certificate of Enrollment 5. Certificate of Academic Record (official transcript) 6. 4 photos (height 4cm×width 3cm, front view, half length, no background, no hat) 7. Health Report ( and ) 8. Passport copy (color) 9. Application for Certificate of Eligibility () 10. Statement of Financial Resources () 11. Letter of Nomination from faculty (*addressed to Head of Office of International Affairs) 12. Motivation Letter 13. Curriculum Vitae
SCHOLARSHIP
80.000 yen/months For more information please read the
Information sheets
carefully.
APPLICATION PROCEDURE
Submit the aforementioned documents to Office of International Affairs, UGM (Bulaksumur F-12) for internal review.
OIA staffs will evaluate your application.
Once you are selected as Nominated Student, you may continue online application through Ferris University.
FINAL decision from Ferris University.
Please send all documents above in hardcopy (2 COPIES) to Office of International Affairs, UGM (Bulaksumur Block F-12) and  softcopy (compiled in 1 PDF file) to scholarship@ugm.ac.id no later than October 15, 2018 read more