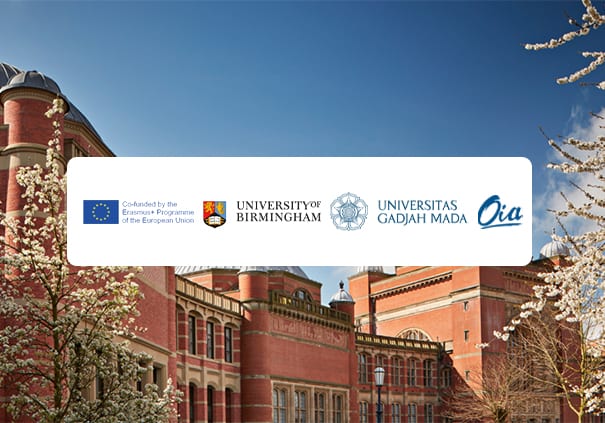 Greetings from the University of Birmingham!
The University of Birmingham was established by Queen Victoria by Royal Charter in 1900 and was the UK's first civic or 'redbrick' university. The first phase of building work on the campus was completed in 1909 under the auspices of the esteemed architect Sir Aston Webb.
Birmingham is constantly developing and evolving in its desire to become a leading global university. This is being achieved through the enhanced research power and reach; the distinctiveness of the exceptional student experience; the breadth and depth of the academic portfolio; the size and the extent of its global networks.
We are pleased to inform you that the Application for UoB Student Exchange Program for Fall 2020 is now open for Universitas Gadjah Mada students.
UoB Information Sheet 2020-21
University of Birmingham Academic Entry Requirements 2020-21
University of Birmingham English Entry Requirements 2020-21
College Structure 2020
More information: https://www.birmingham.ac.uk/International/study-abroad/study-abroad-incoming/applying.aspx
Eligibility
3rd to 6th-semester undergraduate students (S1)
3rd to 4th-semester graduate students (S2/S3)
Enrolled in Universitas Gadjah Mada during the program
Required Documents
Curriculum Vitae
Motivation Letter
Letter of Enrollment from Faculty
Letter of Nomination from Faculty (addressed to the Head of Office of International Affairs UGM)
Official Academic Transcript
Colored Copy of Passport
English language proficiency
Confirmation Letter of Participation (download)
Application Procedure
Submit the aforementioned documents to the Office of International Affairs, UGM (Bulaksumur F-13) for internal review.
OIA staff will evaluate your application.
Once you are selected as Nominated Student, OIA will send your official nomination to the University of Birmingham and you may proceed to the online application for host-university selection.
The FINAL decision from the University of Birmingham.
Please send all documents above in 1 hard copy to the Office of International Affairs, UGM (Bulaksumur Block F-13) and 1 softcopy *(Combined in 1 PDF Format) to email: scholarship@ugm.ac.id no later than March 16th, 2020.