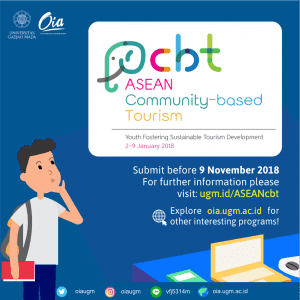 Dear ASEAN Students,
Application for ASEAN Community based Tourism Program) arranged by ASEAN-Korean Centre and Ministry of Tourism of Indonesia is still open.
This program will be held at 2-9 January 2019 at Desa Wisata Nglanggeran, Yogyakarta. Please find the concept note of the program for your perusal and last year program report for your reference.
If you are insterested please kindly fill the application form below and send it to pc.asia-australia@ugm.ac.id before 9 November 2018.
The eligibility of the participants will be selected by ASEAN-Korean Centre.
Thank you. OIA UGM hopes to receive application from you.
Best,
OIA UGM
Attachment,
Project Concept Note : Concept Note_2018 ASEAN CBT
Program Brochure : Publication_2017 ASEAN Community-based Tourism
Application and Concern Form : Application & Consent Form